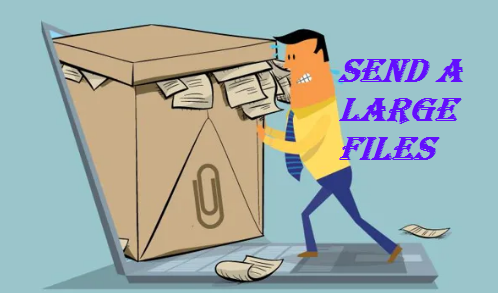 You want to move a document, pictures, archive, or any type of file to one or more people, but you can't, because the volume of emails is limited. A simple and free way to overcome this obstacle: WeTransfer. Today, techryn explains to you how to send a large file with this online service.
With the speed and availability of the Internet, it's easy to download an album or music movie very quickly (WeTransfer), watch the HD series on Netflix and perform a thousand long or previously difficult operations. For a long time, it was also impossible to send a large file.
The reason is that the volume of emails that can be sent is often very limited. There were other alternatives (FTP server, for example), but they were not available to the general public. Currently, the amount of emails that can be sent does not exceed a few tens of megabytes, and the maximum should not be exceeded depending on the courier service provider. On the other hand, simple and practical solutions have emerged to transfer large files, the most important of which is cloud, which allows storing documents online and sharing them with other users. These services are interesting, but there is also a faster, simpler and more convenient way for those who rarely need to transfer large files to other people: WeTransfer.
This free online service provides the ability to send files up to 2 GB to recipients. If you choose Premium mode, the limit will increase to 20 GB per transmission. BS: No registration required. techryn explains to you how it works. After accessing the WeTransfer site, Click on the link you will enter directly to the service home page: Once you have accessed the homepage, the first thing you need to do is to click "I agree" to agree to the terms and conditions of use.
read also iOS 13.1.1 currently obtainable with fixes for battery drain and more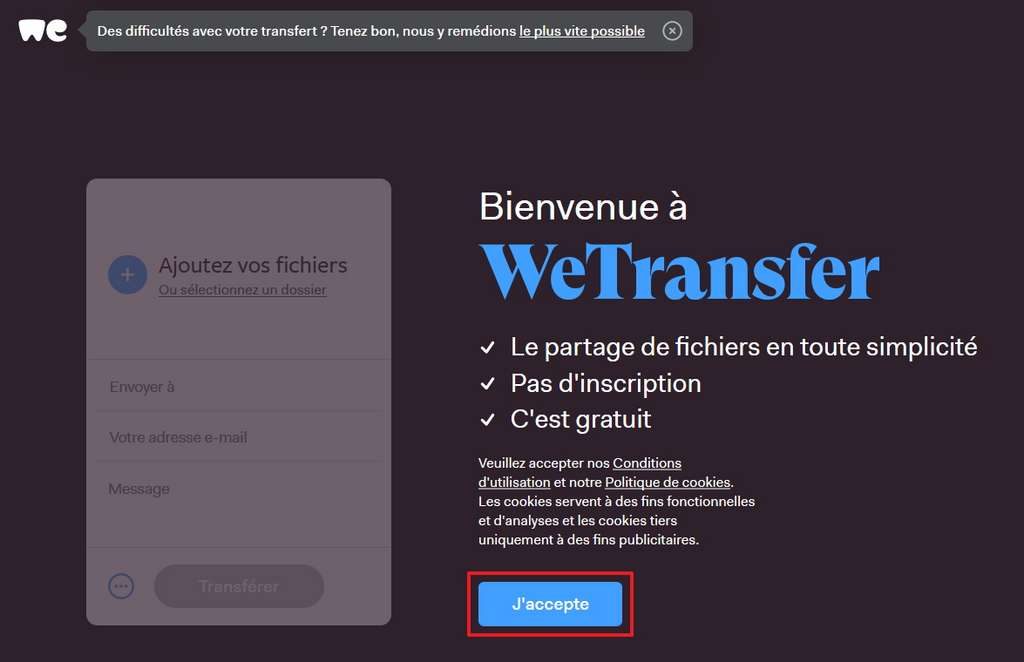 Add files
Select what you want to send. It is possible to add one or more files by selecting one by one by clicking "Add Files" or importing a folder with all its contents directly by clicking "Select Folder." The total size of items to be transferred can be up to 2 GB (or 20 GB for Premium Members).
In either case, File Explorer appears on the screen. Depending on what you previously selected, click the file (s) or folder to send, then click Submit to confirm the process. You can add as many files and folders as you want, always within 2 GB. To do this, just click on the plus sign and select "Files" or "Folders." The list of items, their name, number, and size is displayed on the interface.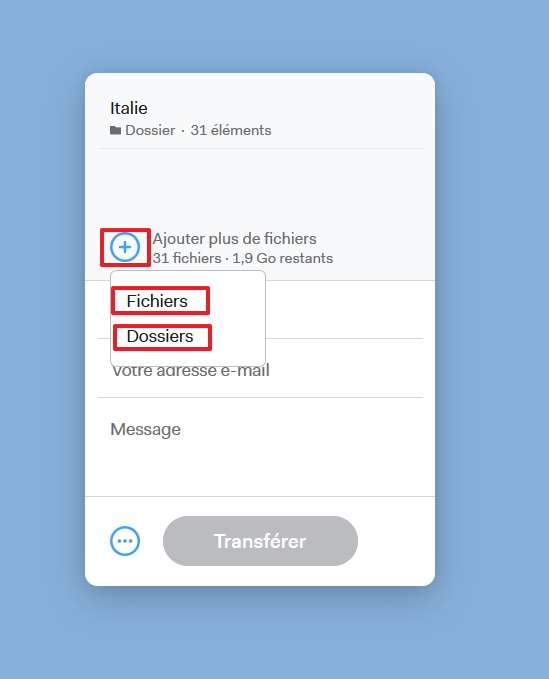 Register as a sender
Then, fill in your e-mail address in the field provided for this purpose so that the recipients know the content source.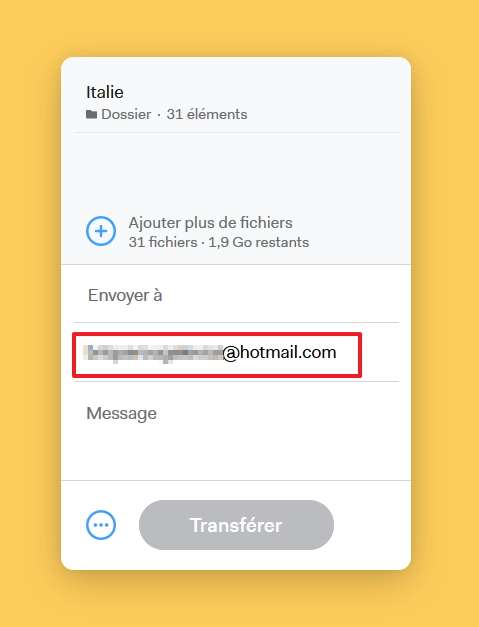 Choose the sending method
There are two ways to send files: by email or by link.
1 by email
In the Send To field, enter up to three email addresses. Each time you add one, press the "Enter" key to enter a new one.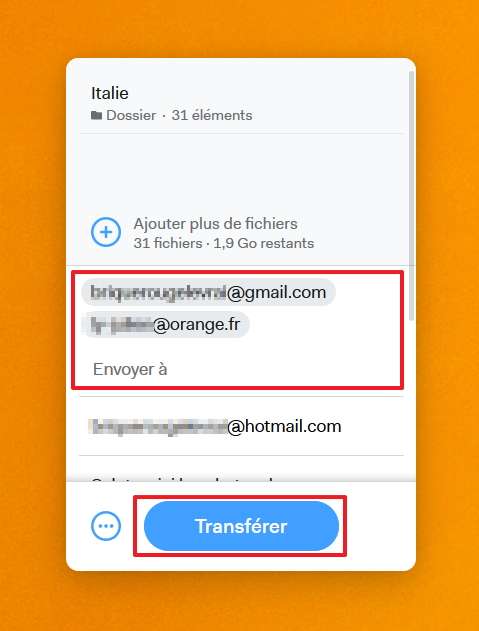 All that is left is to click on "Send" to start the sending process.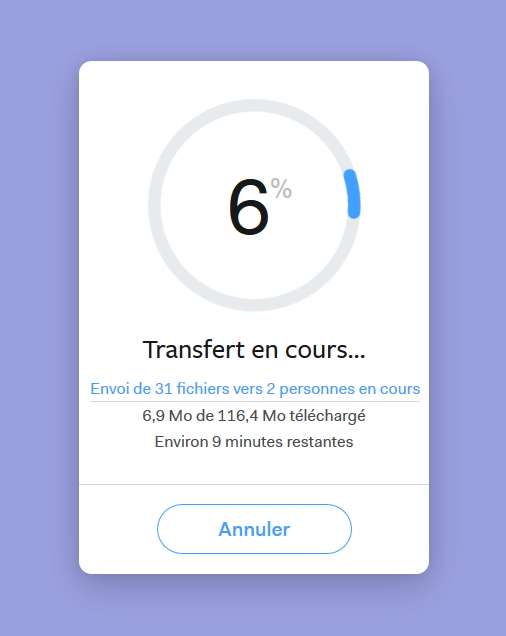 Your files are uploaded to the WeTransfer platform. At the end of the process, you are notified that an email has been sent to the selected addresses and that file transfer will be available for 7 days.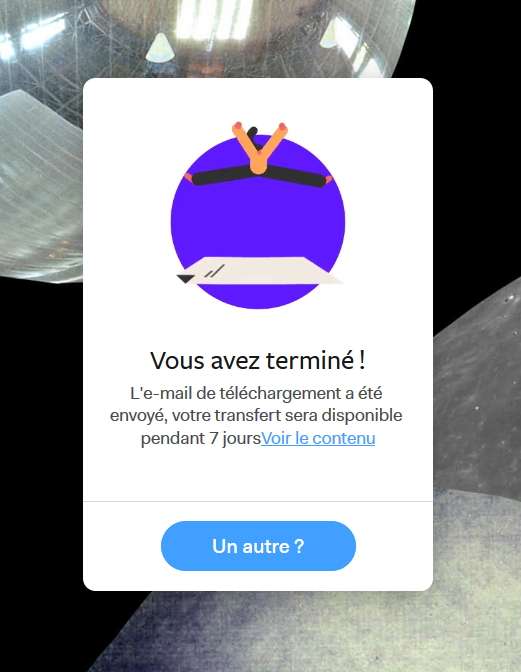 2 via URL
If you send selected items to more than three people, there is a possibility to create a sharing link. To do this, click on the icon representing three points in a circle (to the left of "Move"). The "Send as" field appears, then choose "link".
Finally, click "send" to start uploading your files.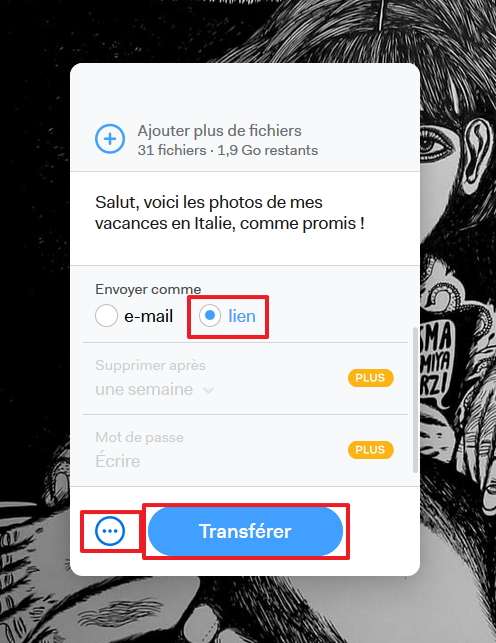 When the download is complete, the Share link appears on the screen. Click the "Copy link" to save it. You can now connect it to the people you choose the way that works best for you (email, instant messaging, social networks, etc.).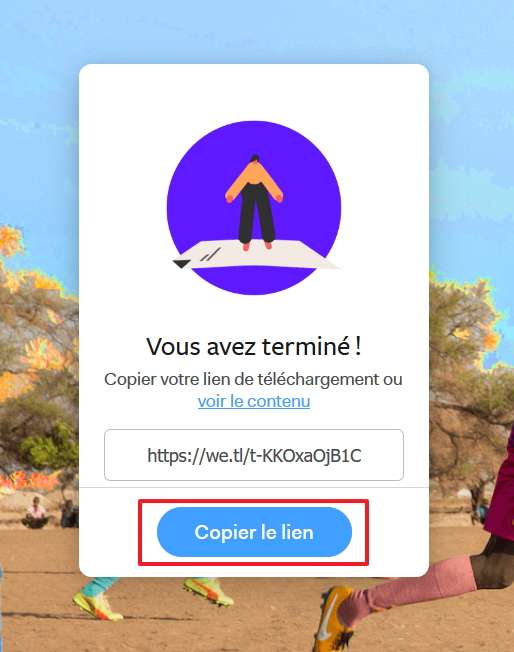 Upload by recipient
If you send e-mail to recipients, they must click the link that contains it. If you connect a direct link, it is enough for people who have it to open. In either case, your contacts are forwarded to the WeTransfer platform. All they have to do is click "Download" to transfer your files to their device.
Note: After 7 days, files stored on WeTransfer are deleted and therefore, cannot be downloaded.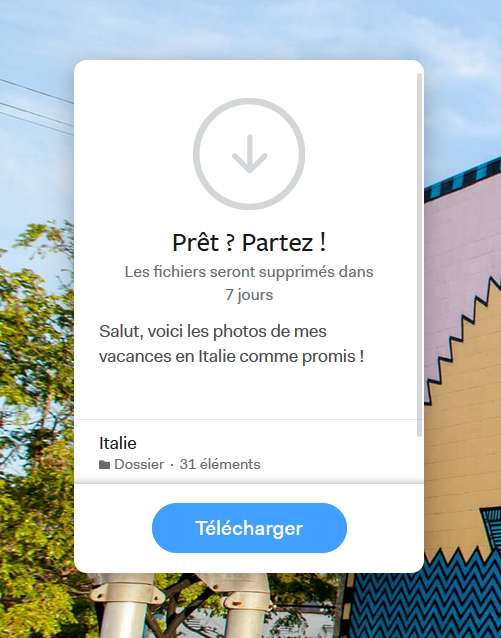 read also Apple is considering using its logo as a notification light, patent application suggests
Electronic cigarette : the disease that strikes the US
iPhone How to make exceptions for the Do Not Disturb
and Google Assistant will tell you your next NYC train can arrive