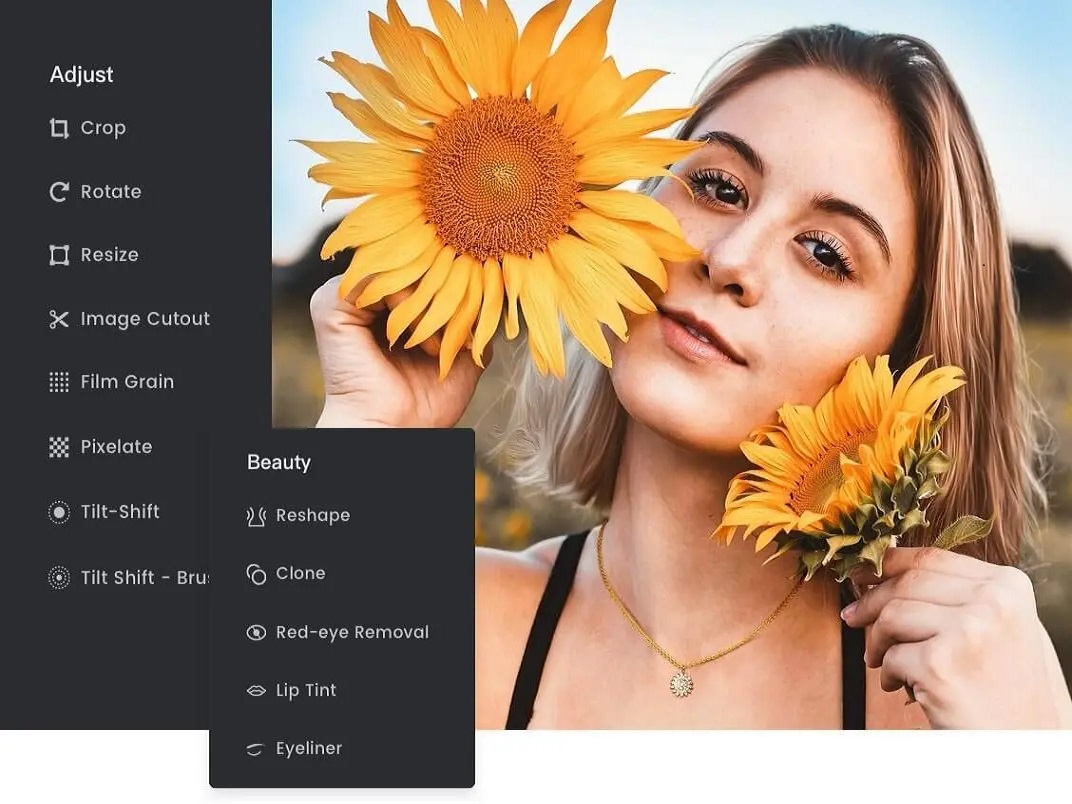 here are the best free websites toEdit photos online with a lot of features.
We take thousands of pictures of people, places, and things and most often share them with others. But not every click is perfect and you often need to improve your photos. here are the best free website to Edit photos online.
If you don't have the time and resources to run your photos through professional photo editing software, then a free website to Edit photos online would work the best for your everyday photo editing and enhancing needs.
In this post, we are presenting some of the best and free photo editors to Edit photos online. The tools have basic to advanced photo editing and enhancing features as well as some additional useful features.
So go through the details of each tool in the following to see which one suits you best.
read also Best Time To Post On Instagram for more Traffic engagement like
and Become famous on TikTok get more views and followers, new method.
How To Get Free Instagram Followers 2021 comments reacts Easily.
Fotor is a tool to edit your photos and it comes with basic editing features (crop, rotate, adjust color, etc), on top of the ability to add effects such as lomo and vintage to beautify your photos.
You also can create a collage with various templates. Also, you can quickly pick a layout in the right size (e.g. Facebook covers) for use on social media.
Notable features:
All the basic editing features.
Create artisitc collage.
An array of pre-made designs like posters, banners, ads, and social media posts.
read also learn excel free from beginner to advanced
and, Artificial intelligence invites itself into your toilets
may interest you, Satellite Internet: SpaceX will launch its network in 2020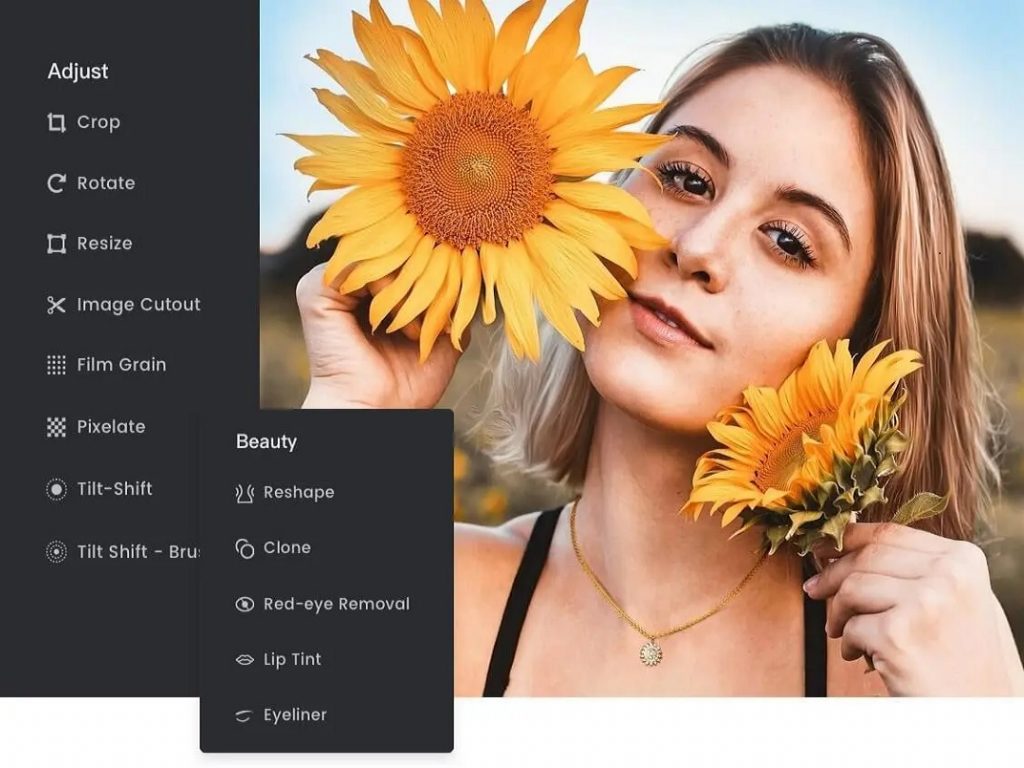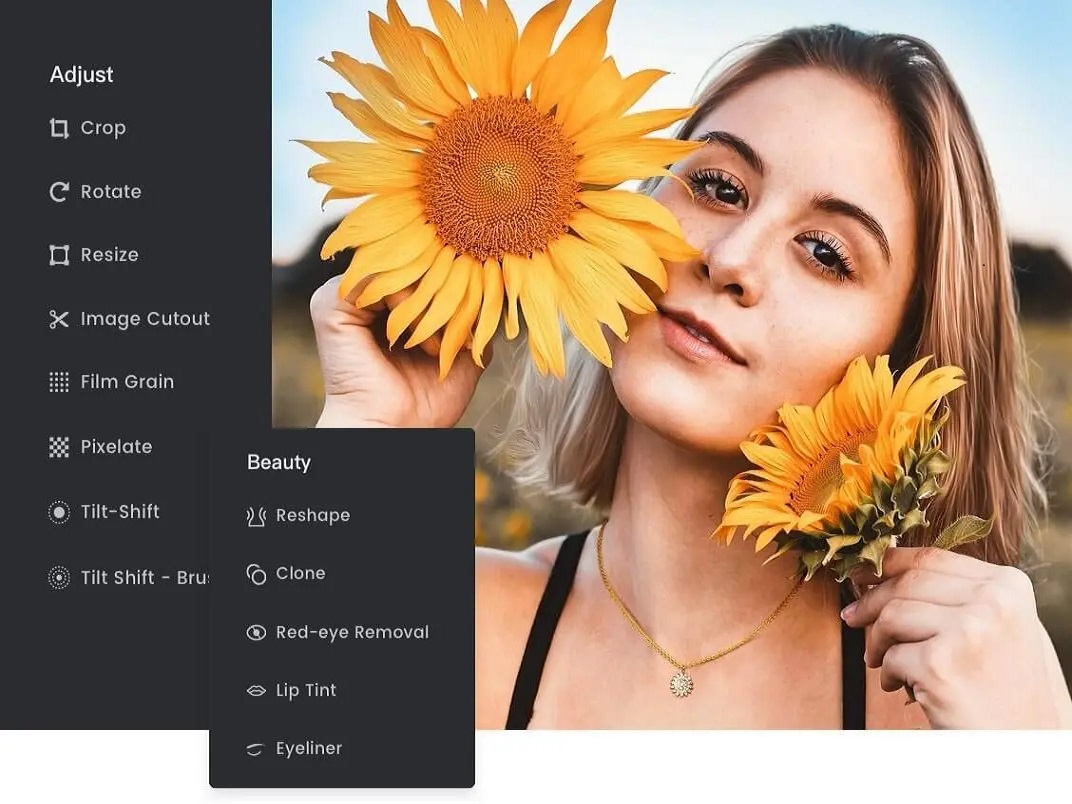 Picmonkey provides basic editing of your photos, touch-ups, and the ability to create a design for social network use. There is also the feature to create collages. You can upload a photo from your computer, Facebook, Flickr, or from cloud storage like Dropbox and OneDrive.
Notable features:
Customizable filters and photo effects.
One-click background eraser.
Smart resizing tool that resizes your photos according to any social media app.
Befunky is a tool to Edit photos online with the essentials plus the ability to add filter effects and artsy features like cartoonize, impressionist, pointillism, watercolor, and others. You can also add frames, graphics, overlay, text, or texture to enhance your photos.
Notable features:
Simple and clean editor.
Variety of advanced features like touch up tool, effects, overlays, and textures.
Quick guide and tips with each tool to help you use it to its full potential.
the Polarr is the ideal photo editor for bloggers, students, and photo professionals alike. Polarr lets you batch export your photos, add a watermark, and work with keyboard shortcuts.
There is also a Polarr Photo Editor available on the Chrome Store, which lets you edit your photos while on the Chrome browser as long as you enable WebGL 2D acceleration on your Chrome.
Notable features:
Advanced filters and image adjustment features.
Export saved photos to Facebook, Dropbox, Google Drive, and more.
Helpful tutorials to guide you through photo ehnacement process.
The editor is a simple tool to edit your photos online. It has common tools for editing such as crop, rotate, adjust color, exposure, and sharpness. Some filter effects, frames, stickers, and textures are also included in this tool to enhance your photos.
Notable features:
Intuitive interface with all the basic features.
Add texture, stickers, text, and photo effects.
Save the edited photos in computer and cloud service or share on social media.
Fotostar provides basic tools for editing photos (crop, resize, rotate) and lets you add stylish photo filters and effects. There are over 50 unique photo effects and 30+ frames you can apply to the photos. When you are done editing you can download photos in any quality range you want.
Notable features:
An array of color correction tools.
Add from 50+ photo effects and filters.
Complete privacy of the edited images.
Photo Editor SDK is a free tool with a simple intuitive interface. This tool features over 40 hand-crafted and non-destructive filter effects, image cropping, color setting such as contrast, saturation & brightness as well as two special effects: Radial Blur and Tilt-Shift.
Notable features:
Customize the UI for enhanced photo editing experience.
Configurable preset for filters, adjustments, fonts, and crop ratios.
40+ hand-crafted filters and effects.
Canva Photo Editor is a great tool to add photo filters quickly. Upload or drop your photo to the editor then choose one of more than a dozen beautiful filter effects. Basic editing tools such as adjusting the color, flipping, and cropping are also included.
Notable features:
Remix photos in a few simple steps.
Advanced color adjustment and auto-enhacement features.
A library of professionally-made customizable templates.
Adobe Spark is a browser-based free photo editor with some of the most useful features for quick photo editing. It is pretty simple to use and anyone without pre-knowledge of photo editing and designing can easily maneuver their way into amazing photos.
Some of its best features include photo animation that allows you to transform any image into an animated design and bring it to life, animated text effects that make simple text look interesting by adding professional text animations, and creating photo collages using any of the cool templates available.
As for more basic photo editing, you can crop, resize, and add your logo or branding to the images. You can also remove unwanted backgrounds and apply a different background from an assortment of templates available in the tool.
Notable features:
Transform your photos into animated designs.
Add animated text effects to your images.
Create stunning photo collage from scratch or using one of the many templates.
Pixlr Editor allows you to edit images with features much like those you can find in Photoshop. The lasso tool, smudge tool, blurring tool, clone stamp, and more are all there. If you're looking for a Photoshop alternative, this is the best bet for you.
Bonus: A few more…
Photofy lets you import images to edit from Facebook, Dropbox, Google, Instagram, or from your PC. Besides basic editing features, Photofy comes with a bunch of artwork collections and typography with dozens of beautiful font faces. This editor also has keyboard shortcuts for quick access to these features.
Online Image Editor has everything you need for your quick photo editing needs. You can use it on any device as it offers simple and easy photo editing features for your professional as well as everyday needs.
It works with all major formats like PNG, JPG/JPEG, BMP (Bitmap), or animated GIFs. There are many basic editing features like cut, resize, crop, and merge as well as some advanced ones like a transparency tool that turns the background of your image transparent.
Additionally, you can upload your fonts in the editor and use them on any photo, and use an array of image filters and animated masks to make your images more eye-catching.
Lunapic is a simple photo editor with the basic feature but it is perfect if anyone wants a quick retouch of their photos. Being completely online, you don't have to log in or sign up, just upload your image in any of the popular formats and start editing.
It offers basic editing features like crop, cut, paste, blend, add text, and resize, etc. as well as adding simple effects, artistic effects, filters, and borders to your photos. You can also use some cool pre-made animations and add them to your images.
Do you know another free toll to Edit photos online? Share it with us
Please Support Us By Sharing Posts And Clicking On Ads For See Live Blog.
read also AirPods Pro, Apple Officially confirms. Exclusive all the details
and Linux command, a free course for beginners and advanced users
may interest you Learn Linux free in 7 Days and Level Up Your Career
CompTIA Network+ full free course and practice exam
learn excel free from beginner to advanced
and learn french free from scratch all levels become pro
may interest you Electronic cigarette: the strange disease that strikes the United States